Welcome to the new Teetoo shop!

All of my handmade lovables can be viewed in the Teetoo Etsy Shop
Make sure to read my shop policies before placing an order please.

All listing prices include shipping costs within Canada. Please note that I do ship worldwide, but the listings here are only for Canadian customers who are purchasing to ship within Canada.

Please contact me if you are interested in placing an international order. I am very happy to create a custom listing for you!
Lucky Christmas Sprite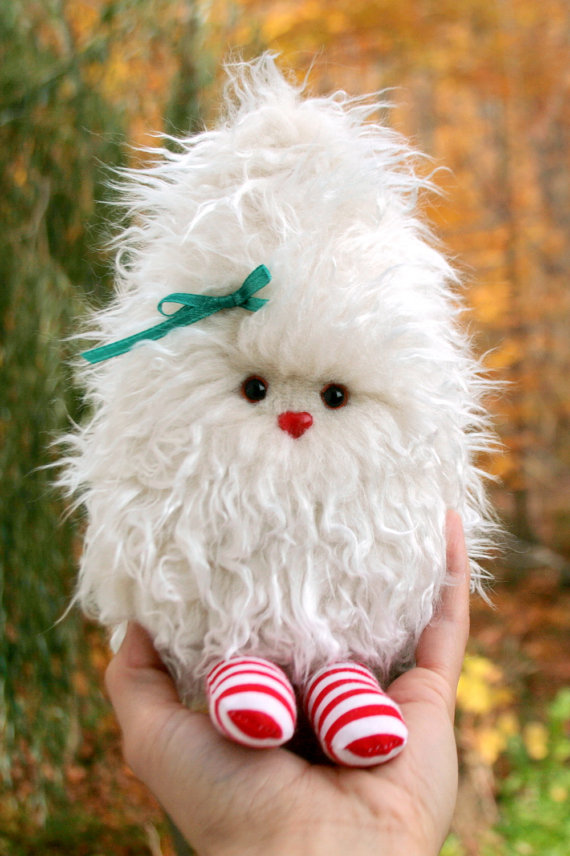 $ 32.99 CAD
This little sweetie is certain to bring you much luck this holiday season. She is perfect for playing with or just for display and comes ready to hang with a little bow. Sure to spread some Christmas cheer, Lucky Sprite makes a great gift for anyone who loves cute!

She measures approximately 10" long and 5" wide. She is made with faux fur, cotton, child safety eyes and nose and stuffed plump with polyfil. Because each one is handmade, yours may vary slightly from the one pictured.

Lucky Sprite will arrive at your door tied with a red bow and tucked safely in a bubble mailer and comes with a signed certificate of authenticity.

While the Lucky Christmas Sprite is mild mannered and easy to take care of, there is one warning that comes with this sweet furry something! Make sure you never feed her after midnight!
Holiday Card Pack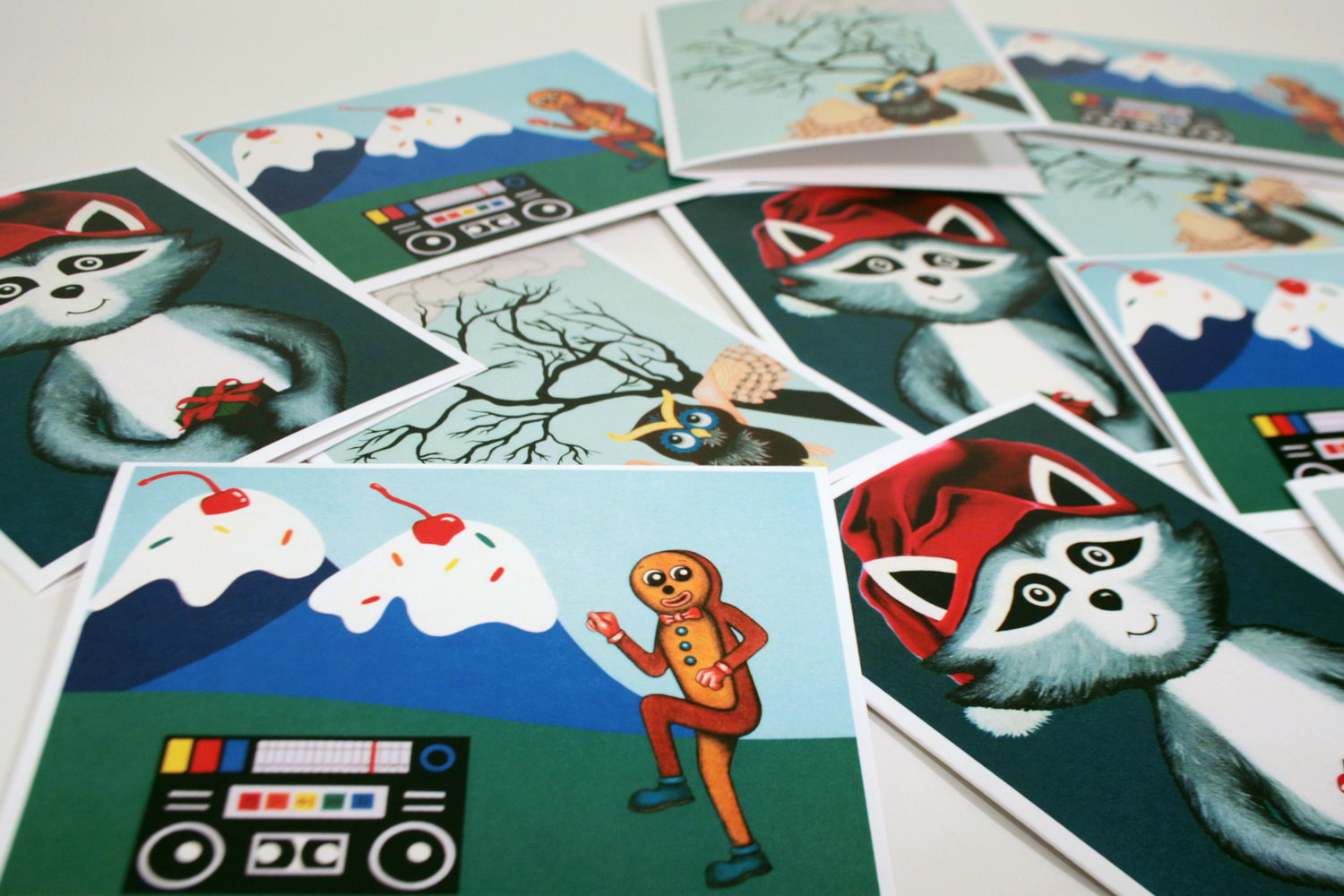 $ 21.99 CAD
The Teetoo holiday card pack includes 12 high quality cards measuring 4.25"x 5.5" with matching white envelopes. They are printed on heavy white card stock and have a lovely smooth matte finish with an 1/8" border. In your pack you will receive four each of three card designs featuring my original artwork. The adorable Teetoo shop banner is in full color on the back of each card.

Choice is good! You can choose a card pack with clever greetings inside or you can choose to have them blank. Also, I am happy to make your pack with just one or two of the designs if you prefer. Please let me know your choices in the notes to seller box during check out.

*Please note that if you do not leave me a note, you will receive a variety pack with greetings*


The greetings are as follows:

Gingerbread man:

"Hope the holidays bring you many reasons to bust a move!"

Flying Owl:

"Happy "Hoo"lidays!"

Raccoon with Gift:

"May your presents be many and your celebrations be merry!"

All Teetoo cards arrive at your door neatly packaged and protected in a resealable plastic sleeve.

Looking for a larger quantity of Teetoo cards? Please contact me and let me know! I will gladly make a special listing just for you if I have the quantities you are looking for!
Raccoon With Gift 8 x 10 Art Print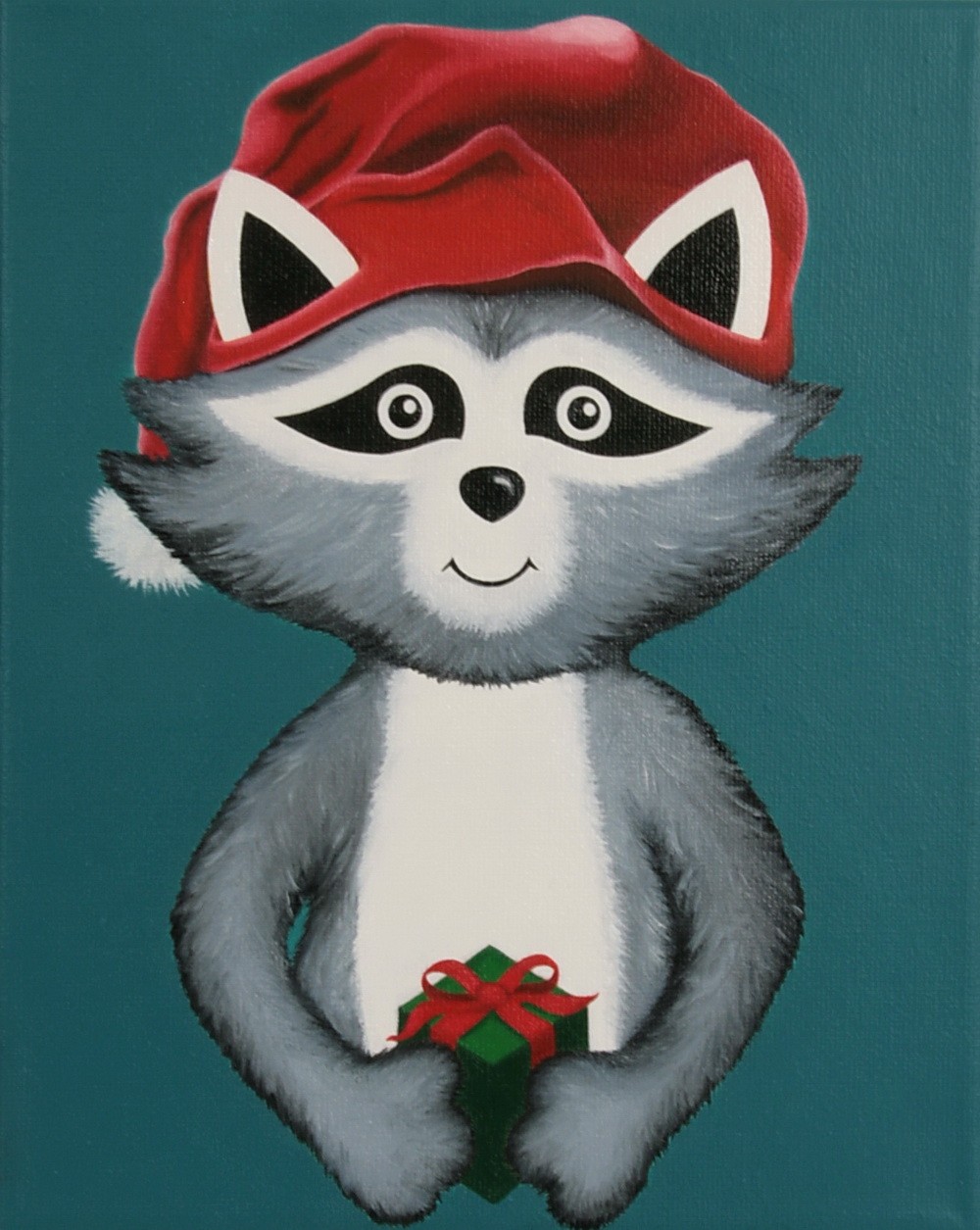 $ 18.99 CAD
This character melts my heart! I think he's so very sweet! I loved this raccoon as a huggable plush (also available in the shop - nudge, nudge, wink, wink) so I painted his portrait dressed for the holidays (there's nothing in the box by the way, it was just a prop for the portrait- it really works don't you think?). Hang this art print in your foyer this Christmas, or give one as a gift!

This border-less print measures 10"x8" and can be easily framed with any standard 8"x10" frame or matte.

This print is from an original oil painting by me, Andrea Deal. It is printed on high quality archival paper that is fade and water-resistant.

Epson Pigment Inks are used to produce my prints and are guaranteed not to fade for over 100 years.

All Teetoo prints are signed and dated by me, and arrive neatly packaged and protected in a resealable plastic sleeve and are shipped inside a protective stiff stay flat envelope.
Sasquatch Handmade Huggable MADE TO ORDER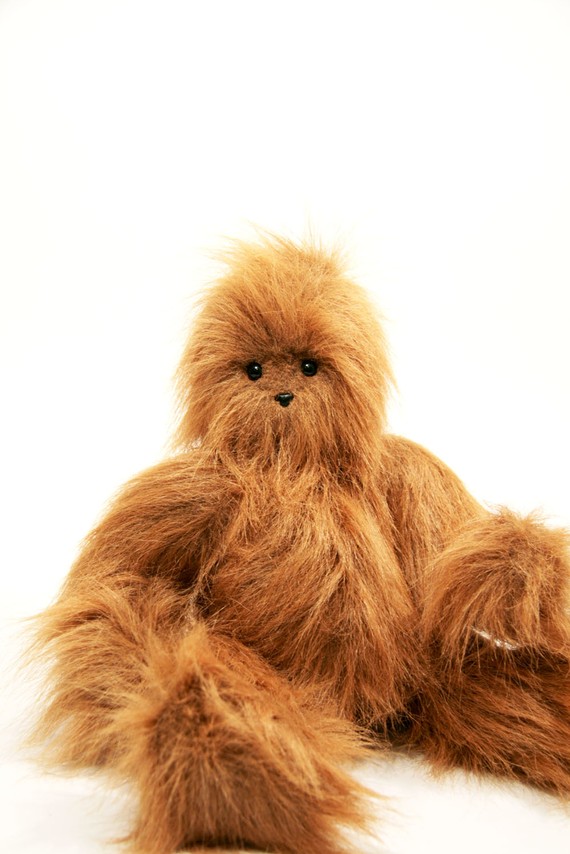 $ 124.99 CAD
I was out in the woods for a hike and you wouldn't believe what I saw! A Sasquatch! Now that I've seen one for myself, I know the Patterson-Gimlin film must be true! Our Sasquatch is a kind-hearted wild man with mild manners and a shy disposition. I couldn't get a photo of him so I created a Huggable so that you could see him and cuddle him yourself!

This is a listing for one adorable Teetoo Handmade Huggable Sasquatch. He is made with faux fur shag and stuffed plump with polyfil. He was created and sewn by me, Andrea Deal. He is a fully pose-able jointed stuffie featuring safety joints, eyes and nose so he is safe for children of all ages. He stands easily if leaned up against a wall or some sort of support but sits up all on his own. He measures approximately 14" tall when standing, 10" tall when seated and is 12" around his little belly.

He comes with a signed and dated certificate of authenticity.

I'd give him a name, but that's part of the fun for you!

The Sasquatch Handmade Huggable is made to order. Please note that he will take two weeks to be made especially for you before he will be shipped.

Each Teetoo Handmade Huggable will arrive at your door tied with a big red bow and tucked safely inside a bubble mailer.

Because each Sasquatch Huggable is handmade, there may be some slight variations from the one pictured. I always send along images of your completed Sasquatch to ensure that you are in love with him before he is sent.